.
Home Inspectors in Central Florida
The preferred Home Inspectors among realtors and buyers in Central Florida
Looking for an experienced licensed home inspector in Central Florida?
Hablamos Espanol!

| | |
| --- | --- |
| | |
Committed to provide customer satisfaction with home inspection reports in Central Florida, I am an experienced, professional, and licensed home inspector, can give you a quality and comprehensive reports on the condition of your property.

As a trusted home inspector in Orlando, FL, I have the right skills and knowledge to assess the condition of a property from its roof, foundation, heating and cooling systems, plumbing, electrical work, water and sewage, to its fire and safety issues.

Some of my home inspection services include general home inspection, pre-purchase home inspection, wind mitigation inspection, four-point inspection, inspection with infrared camera, and general commercial inspection.

I do this quality home inspection in Orlando, FL and many more areas by using high technology tools and equipment. With my knowledge, skills and the right tool, I confidently give you the detailed and comprehensive report that you need. This report will reflect any visual defects that could be present in your home. Providing you quality home inspection, will help you to have the peace of mind that you need in your future home.

So invest now in quality home inspection in Orlando and many more areas in Florida.

In order to find a Home Inspector contact me today and I will give you an expert advice and estimate for FREE!

Home Inspector License

Certified Inspector
Luis Martin is a licensed, professional Home Inspector servicing all Central Florida for over five years.

With over 5 years of experience in the industry, I, Luis A. Martin, am a Florida Licensed and Insured Home Inspector. I am qualified to perform different home inspection in Central Florida and surrounding areas.

Some of the home inspections in Kissimmee, Florida and in many areas that I do include general home inspections, pre-purchase home inspections, wind mitigation inspections, Four-Point inspections, inspections with infrared camera, and general commercial inspections among others.

My passion for this career is rooted in the hard work my own father has shown as a home contractor and a professional inspector. Since I was a kid, I saw how he values his work so much. So at a very young age of 12, I started helping him in his work. That is why I owe to him my knowledge about buildings, home structures, electricity, plumbing, carpentry, air conditioning, and many more.

Continuing my father's legacy, I decided to be a professional and trusted home inspector in Kissimmee, FL and many other places. I am bound to perform my job with the highest professional ethics.

I am a licensed home inspector in Kissimmee, FL, who enjoys working and helping people and the community. With my skills, knowledge and resources, I am committed to contribute to the community through quality home inspection in Kissimmee, FL and many more areas.

So if you want to experience professional and quality home inspection in Florida, I got you covered.

Contact me today and get your FREE estimate.

I perform my job with the highest Professional Ethics.

I follow the principles of The Creator of the Universe. He makes me a person with values. Every day I enjoy helping people to become a better community.

I am the Home Inspector who works for the people.

I want to be your Home Inspector.


Services
1. General Home Inspection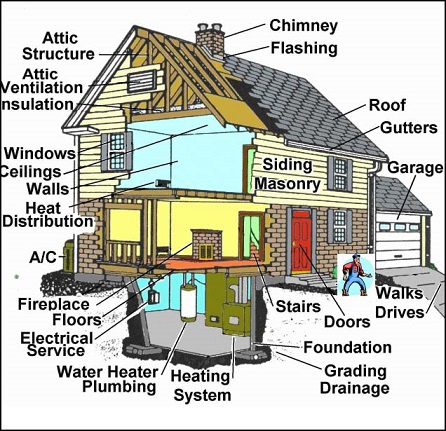 A general home inspection is a visual, non-invasive, examination of the accessible areas of a residential property, which is designed to identify defects within specific systems and components that are both observed and deemed material by the inspector.

A general home inspection takes about 2 hours, plus 2 hours in my office preparing an exceptional detailed report with photos and comments that will reflects those defects and damages that could be present in your future home.

We will send the report to you by email on PDF format the same day of the inspection.

The fee for a general Home Inspection depends of the amount of Square Feet of the home.


The scope of a General Home Inspection:
| | |
| --- | --- |
| 1. Roof. | 8. Interior area. |
| 2. Exterior area. | 9. Garage. |
| 3. Foundation. | 10. Laundry |
| 4. Air conditioner. | 11. Appliance. |
| 5. Plumbing. | 12. Pool. |
| 6. Electrical. | 13. Fireplace. |
| 7. Attic. | 14. Isulation. |
Call now to get a quote for a general home inspection.

2. Wind Mitigation Inspection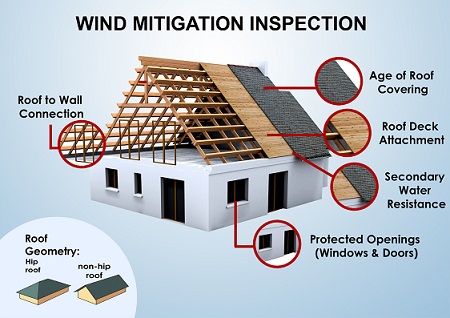 A wind mitigation inspection is a kind of home inspection common in Florida. The purpose of this inspection is to determine the appropriateness of a given structure construction in the event of strong winds. such as those present in a hurricane.

A home owner with windstorm insurance can often submit the results of a wind mitigation inspection to their insurer to obtain discounts on their windstorm insurance. In Florida, for example, premium discounts for certain favorable wind mitigation features are mandated by State law and can total 45% of the original policy's premium.

Call now to set an appointment for a Wind Mitigation Inspection.

3. Four-Points Inspection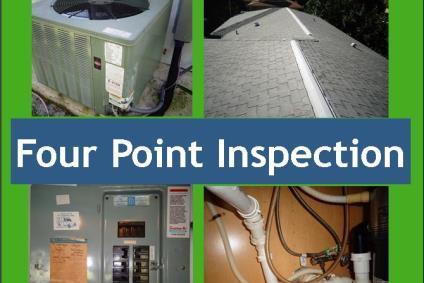 Insurance companies sometimes require an inspection of a home focused on four points only. The name four point inspection derives from the four areas of interest:

1. Air Conditioning System.
2. Roof Structure.
3. Electrical System.
4. Plumbing System.

Call now to get a quote for a Four-point Inspection

4. Mobile Home Foundation Certification
| | |
| --- | --- |
| | |
The scope of a HUD/FHA Mobile Home Foundation Certification:

In many cases, a foundation certification is required on a manufactured home to verify that the foundation is present, permanent, and functional.

A permanent foundation is one that is "constructed of durable materials (concrete, mortared masonry, treated wood) and be site built". Since the manufactured home is not site built, it is important that the foundation be certified to be site built. HUD states that the foundation of a manufactured home must "have attachment points to anchor and stabilize the manufactured home to transfer all loads to underlying soil or rock. The design must comply with FHA guidelines. For existing homes, a Professional Engineer is required to certify that the foundation meets the FHA requirements. The HUD Permanent Foundations Guide for Manufactured Housing, publication number HUD-007487 is the basis for the FHA requirements. The permanent foundations shall be structurally developed in accordance with this document or be structurally designed by a licensed professional engineer."

Call now to set an appointment for a HUD/FHA Mobile Home Foundation Certification.

5. Swimming Pool Inspection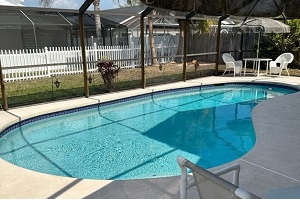 The scope of a swimming pool inspection includes:

Type, status, Liner, Deck, Coping, Drainage, Skimmer, Pump motor, Filter, Shut-off valve, Back wash valve, Heater, Gauges, controls, Ladder/steps, Pool enclosure.

Call now to set an appointment for a Swimming Pool Inspection.

6. Inspection with Infrared Camera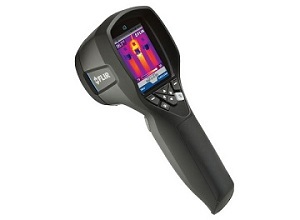 An Infrared Camera is used to detect heat loss in insulated systems and moisture leaks, that are not normally visible to the naked eye. It can also detect overheating of electrical apparatus. This is an extraordinary tool of high technology.

Call now to set an appointment for a Home Inspection with an Infrared Camera.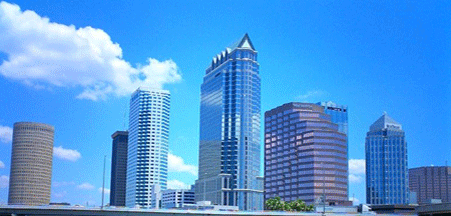 To control your risk in your business, you should look beneath the surface of your building investments, evaluate the property and develop a plan to protect your assets. We use a broad spectrum of commercial and multi-family inspection experience. We have been performing General Commercial Inspections for over 5 years.

Call now to get a quote for a Commercial Inspection.

We work in these cities in Florida:
We work in these Counties in Florida:
Osceola County Florida cities:

Celebration, FL, Intercession, FL, Kenansville, FL, Kissimmee, FL, Saint Cloud, FL.

Osceola County Florida zip codes: 33848, 34739, 34741, 34742, 34743, 34744, 34745, 34746, 34747, 34758, 34759, 34769, 34770, 34771, 34772, 34773.


Orange County Florida cities:

Apopka, FL, Bithlo, FL, Maitland, FL, Ocoee, FL, Orlando, FL. Windermere, FL, Winter Garden, FL, Winter Park, FL.

Orange County Florida zip codes: 32703 (Seminole), 32704, 32709, 32710, 32712, 32751, 32768, 32777, 32789, 32790, 32792, 32793, 32794, 32798, 32801, 32802, 32803, 32804, 32805, 32806, 32807, 32808, 32809, 32810, 32811, 32812, 32814, 32816, 32817, 32818, 32819, 32829, 32821, 32822, 32824, 32825, 32826, 32827, 32828, 32829, 32830, 32831, 32832, 32833, 32834, 32835, 32836, 32837, 32839, 32853, 32854, 32855, 32856, 32857, 32858, 32859, 32860, 32861, 32862, 32867, 32868, 32869, 32872, 32877, 32878, 32885, 32886, 32887, 32891, 32896, 32897, 34734, 34740, 34760, 34761, 34777, 34778, 34786, 34787.


Polk County Florida cities:

Altura, FL, Bartow, FL, Davenport, FL, Dundee, FL, Haines City, FL, Kissimmee, FL, Lake Alfred, FL, Lakeland, FL, Lakeshore, FL, Loughman, FL, Mulberry, FL, Polk city, FL, Winter Haven, FL.

Polk County Florida zip codes: 33801, 33802, 33803, 33804, 33805, 33806, 33807, 33809, 33810, 33811, 33812, 33813, 33815, 33820, 33823, 33827, 33830, 33831, 33835, 33836, 33837, 33838, 33839, 33840, 33841, 33843, 33844, 33845, 33846, 33847, 33849, 33850, 33851, 33853, 33854, 33855, 33856, 33858, 33859, 33860, 33863, 33867, 33868, 33877, 33880, 33881, 33882, 33883, 33884, 33885, 33888, 33896, 33897, 33898, 34759.


Lake County Florida cities:

Altoona, FL, Astatula, FL, Clermont, FL, Eustis, FL, Groveland, FL, Lady Lake, FL, Leesburg, FL, Minneola, FL, Montverde, FL, Mount Dora, FL, Paisley, FL, Sorrento, FL, Tavares, FL, Umatilla, FL.

Lake County Florida zip codes: 32102, 32158, 32159, 32702, 32726, 32727, 32735, 32736, 32756, 32757, 32767, 32776, 32778, 32784, 34705, 34711, 34712, 34713, 34714, 34715, 34729, 34731, 34736, 34737, 34748, 34749, 34753, 34755, 34756, 34762, 34788, 34789, 34797.


Seminole County Florida cities:

Altamonte Springs, FL, Apopka, FL, Lake Mary, FL, Longwood, FL, Oviedo, FL, Sanford, FL, Winter Srpings, FL.

Seminole County Florida zip codes: 32701, 32703 (Orange), 32707, 32708, 32714, 32715, 32716, 32718, 32719, 32730, 32732, 32733, 32745, 32746, 32747, 32750, 32752, 32762, 32765, 32766, 32771, 32772, 32773, 32779, 32791, 32795, 32799.


Volusia County Florida cities:

Debary, FL, Deland, FL, Deltona, FL, New Smyrna, FL, Orange City, FL, Osteen, FL.

Volusia County Florida zip codes: 32105, 32114, 32115, 32116, 32117, 32118, 32119, 32120, 32121, 32122, 32123, 32124, 32125, 32126, 32127, 32128, 32129, 32130, 32132, 32141, 32168, 32169, 32170, 32173, 32174, 32175, 32176, 32180, 32190, 32198, 32706, 32713, 32720, 32721, 32722, 32723, 32724, 32725, 32728, 32738, 32739, 32744, 32753, 32759, 32763, 32764, 32774.




We use Electronic Key

Home Inspector in Orlando, Florida
Home Inspector in Kissimmee, Fl
Home Inspector in Celebration City, Fl
Home Inspector que hable Espanol